Join us and explore the Komodo National Park with Dive Komodo. It is a wonderful marine tourism destination, with a very special marine environment – on a global scale!  It is also home to some of the world's most amazing creatures, from Komodo dragons to carpet sharks, from mantas rays to flying lizards, and thousands of other weird and wonderful marine species.
Above water picturesque islands and pink sand beaches will keep you clicking the buttons on your camera. The gorgeous reefs and marine animals in amazing numbers, will make you do the same underwater. The diving in Komodo is world class. Thrilling drift dives, manta ray aggregations, and some of the worlds richest and most beautiful coral reefs.
Natural History…
Famous for The Komodo Dragon, (Varanus Komodoensis) The world largest living Monitor lizard, which lives at the top of the food chain in this group of islands,  Indonesia declared
Komodo and surrounding islands as a National Park in 1980. . In 1992 it was declared a World Heritage Site. It protects 239,000 hectares including 75,000 hectares of land on four major and numerous minor islands.
Komodo is situated approximately 200 nautical miles (370 Km's) east of Bali between the
islands of Flores and Sumbawa. Komodo's symbol of international fame is it's dragons, the world's largest living lizard.
As with most of Indonesia, Komodo rises up from the oceanic floor of this volcanic region of tectonic uplift, rising between two great continental plates. This string of volcanic islands of
Eastern Indonesia make up the south western reaches of what is known as the "Ring of Fire".
Both above and below the sea, Komodo
represents a unique range of geological and biological diversity. On shore it is an amazing museum diorama of the Mesozoic era – dry tundra and reptilian supremacy. ( I.e. like Jurassic Park!)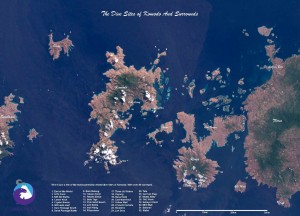 With densely wooded valleys, rich with bird and terrestrial life.
The forest is a rare deciduous tropical savanna woodland. Deciduous due to the extremes of the wet and dry season rather then temperature. Common species are Lontar Palms, Cycads, and
Tamarinds. Komodo is one of the dryest islands in Indonesia and on average receives 14 inches of Rainfall per Annum with the majority of this falling between December and April.
In addition to the world famous Komodo Dragon (Varanus
komodoensis), the larger inhabitants are Buffalos, Rusu deer, monkeys,
pigs, and horses. Further down the scale, indigenous frogs, snakes and lizards abound on the island, not to forget the aptly named endemic Komodo Rat.
Over 150 species of birds have been identified in Komodo National Park,
many of which are migratory and more representative of Australasian than Asiatic species. Distinctive species include Megapodes, Yellow-Crested Cockatoos, Imperial Pigeons, White-breasted Sea Eagles and Maleos.
There are several major islands, Komodo, Rinca, Padar and Gili Motang, and numerous smaller islands through the park.
There are four settlement in the park. One on Komodo, two on Rinca, One on the island of Papagaran. At 2001 the population was approx 3134 people living in the park.
Komodo National Park Fees.
Park Fees: As of 16/4/2015

Komodo National Park Photo Gallery Trekking.