Dive Komodo is a registered PADI Dive Centre. The PADI system of teaching applies the highest levels of professionalism to the teaching and supervision of new divers. They have a range of courses designed to help everyone to enjoy the sport of diving from beginner to professional!
"All of our courses are genuine PADI courses!"
If you are not a diver yet, but still want to explore Komodo's dive sites our Discover Scuba Diving or Open Water Diver courses will take care of everything for you. If you are already trained as a diver but want to make the most of your diving, look into joining an Advanced OW course, a great way to enhance your skills whilst enjoying the diving in Komodo.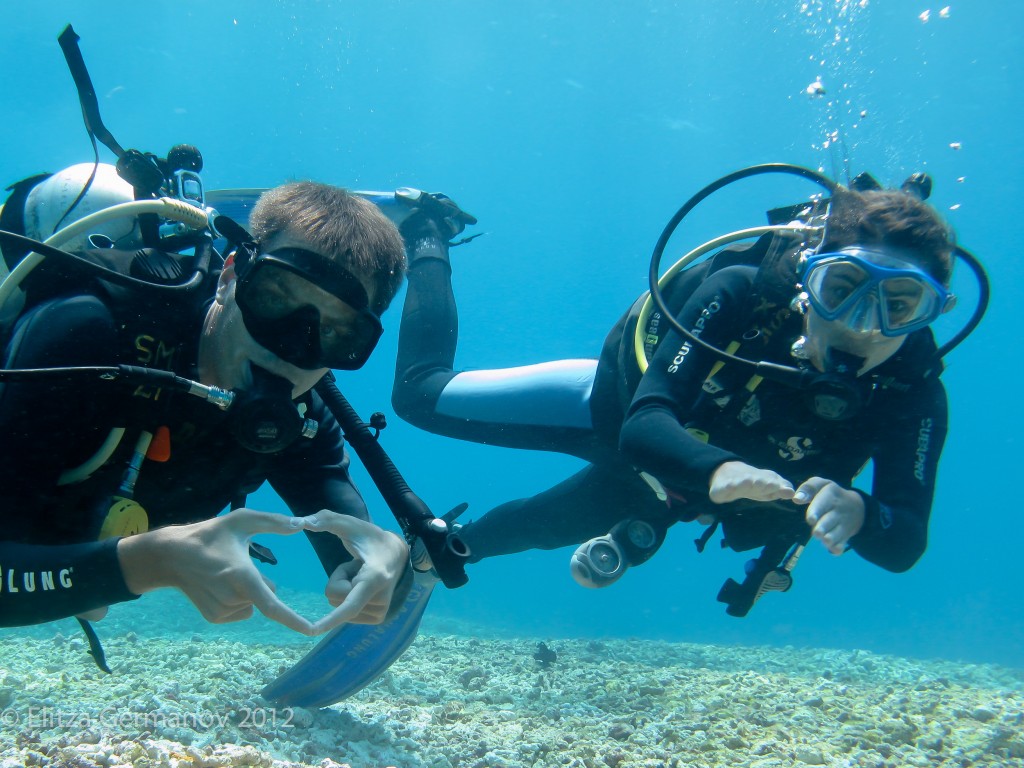 Whether you are a beginner or an experienced diver, further education and training will help you to get the most from your diving experiences. So sign up for one of our PADI courses from Open Water Diver to Divemaster! Don't miss your chance to learn about Komodo's special inhabitants, the manta rays, and help in the fight for their conservation by signing up for our very own PADI Manta Conservation Diver Specialty Course!
The following PADI Programs are available pre-booked or on request. Courses are conducted by native English speakers.
Dive Komodo also have a selection of photo and video services for you. To make your diving trip in Komodo a lasting memory and to share the experience with friends we have a photo and video specialist available to help record your adventure. Products include personalised UW photography and videography, Digital UW camera rental and UW photography and videography courses.
Discover SCUBA Diving

Have you always wanted to try diving?  Now is your opportunity!

Come and see some of the best reefs in the world and immerse yourself into a world bursting with color and life.  In this short introduction to diving (1 day) you will learn equipment use and basic underwater skills designed to give you more comfort and confidence in the water. The rest of the time is spent DIVING with an instructor dedicated to keeping you safe and having fun! Subsequent dives are for fish and fun!

Prerequisite: 10 years old and up

Maximum depth: 12 m

Instructor to student ratio: 1:2

Price: 1 Dive $90 USD; 2 Dives $140 USD

(includes equipment, instruction and lunch; excludes park entry fees)

Become a SCUBA Diver and make friends underwater

Meet a turtle!

PADI Open Water Course (& Jr.)

Do you already love snorkeling but want to see more?  Become a SCUBA diver and explore further! Come see the turtles, rays, and a plethora of reef fish and corals up close and personal! You'll be spoilt rotten right from the start by learning to dive in Komodo National Park.

In this comprehensive course (3-4 days) you will learn all that you need to know to become a internationally recognized certified diver capable of safely diving independent of a dive professional.

The course has 3 parts:

• Knowledge development  -each with a corresponding video section, and quiz and a final comprehensive exam)

• Confined water training (5 skill practice sections in shallow and protected waters)

• Open water training (4 open water training dives focusing on skills and general dive experience)

Prerequisites: 10 (Jr.)/ 15 years old and up

Maximum depth: 12 m (Jr.)/ 18m

Instructor to student ratio: 1:4

Price: $ 395 USD

(includes equipment, books, PADI Identification Card, instruction and lunch; excludes park entry fees)

Go further to experience more with Advanced OW training

What is this amazing creature? Learn more through experience!

Go deeper and see more!

PADI Advanced Open Water Course (& Jr.)

In the Komodo National Park we are blessed with an abundance of fish and coral species found almost nowhere else in the world. Get the most out of your time in the park and see the very best we have to offer as you accomplish your Advanced certification!

This is a great way to learn more about diving, marine life and increase your confidence, and knowledge of the different styles of diving. The course is all about diving and great value as it includes five dives over 2-3 days. It as a sampling of different types of dives designed to give you more experience under the supervision of an instructor.

There are two dives required for AOW certification: Deep Diver and Underwater Navigator. The other 3 dives are up to you!

We highly recommend an exciting Drift Dive with Mantas in right season, or a photography course with our dedicated photography instructors.

The following is a list of the dives that we offer and recommend for diving in Komodo National Park:

AWARE Fish ID: Learn to identify the major fish families in one richest marine regions in the world. Learn about marine survey methodology allowing you to give back a little on every dive.

Deep Diver: Discover the underwater wonders lying deeper than 18m (max 30m) for the first time under the supervision of an instructor.

Digital Underwater Photography/ Videography: Capture your memories to share with friends and family and make some beautiful UW art while you are at it!

Drift Diver: Safely hitch a ride on to one of our world famous currents and see the reefs and fish come alive with action.

Underwater Naturalist: It isn't just fish down there! Learn about all the other integral parts that make Komodo's marine ecosystem so rich and unique.

Underwater Navigator: Get the skills to get out on your own! Gain confidence in your underwater navigation abilities by fine-tuning compass and natural navigation skills.

Night Diver: See the reef under a whole new light (your torch light)! Observe the marine creatures that dominate the reefs at night, but hide during the day.

Prerequisite: Open Water Diver; 12 (Jr.)/ 15 years old and up

Maximum depth: 21m (Jr.)/ 30m

Instructor to student ratio: 1:4

Price: $ 350 USD

(includes equipment, books, PADI Identification Card, instruction and lunch; excludes park entry fees and camera rental charges)

Make your manta encounters count!

Learn, help and have a blast!

PADI Manta Conservation Diver

Do you want an unforgettable experience? For us it is being surrounded by manta rays that are relaxed yet curious and come in close for a better look of US!

Learn all of our inside tips on getting a close manta ray encounter and at the same time help their cause by taking our PADI Manta Conservation Diver Course.

By taking this course you will learn all about manta ray biology, their unique habits, and why manta rays are currently under threat. You will also be involved in helping their cause by applying this knowledge to collect much need data on our local manta ray population and thus becoming a "citizen scientist".

The course includes a theory section in the form of presentations and discussions and 2 open water dives. During the open water dives you will learn how to successfully follow the Manta Ray Code of Conduct and maximize your manta ray encounters. You will also learn how to use a standard dive computer to collect information during your manta ray surveys and how to successfully photograph the gill areas of manta rays or getting an "ID Shot". Afterward you will upload your manta ray surveys onto the database to help manta researchers worldwide gain further insights into Komodo'a manta populations. You will receive a PADI Manta Conservation Diver Distinctive Specialty rating which can be accredited towards your PADI Master SCUBA Diver certification.

We recommend that you take this course from one of our live aboard trips get more in water experience.

Prerequisite: Open Water Diver; 12 (Jr.)/ 15 years old and up

Maximum depth: 12m (Jr.)/ 18m

Instructor to student ratio: 1:4

Price: $ 190 USD (day trip)/  $ 150 USD (live aboard)

(includes equipment, learning material, PADI Identification Card, instruction and lunch; excludes park entry fees, camera and dive computer rental charges)

Emergency First Response

This 1 day course is internationally recognised to meet both First Aid and CPR requirements, and is required for the Rescue Certification.

Prerequisite: 12 years old and up.

Instructor to student ratio: 1:4

Price: $ 250 USD

(includes books, EFR Identification Card, instruction and lunch)

PADI Rescue Diver

Are you a take-charge kind of person? Do you want to know what you should do in the even of an emergency?

This fun, challenging and informative continuing education course (3-4 days) will take you to the next level of diver competency and safety.

In this course you learn how to prevent, recognise and safely and effectively manage diver emergencies, both underwater and on the surface.

Prerequisite: Advance Open Water Diver, EFR certified within the last 2 years; 12 (Jr.)/ 15 years old and up

Maximum depth: 12/ 30m

Instructor to student ratio: 1:4

Price: $ 350 USD

(includes equipment, books, PADI Identification Card, instruction and lunch; excludes park entry fees)

Gain confidence and be a leader!

PADI Divemaster

Would you like to wake up in the morning and immerse yourself into one of the last truly wild places on earth for work?

Komodo is ranked as one of the world's best diving destinations, with a mind boggling abundance of coral and fish species. You'll never regret spending some extra time here while opening up the door to a life of exploration, adventure, and fun.

So why not Go Pro? The Divemaster course runs over 4-6 weeks and is the first professional level qualification that teaches you how to assist, organise, and lead diving services. Gain in-depth knowledge about dive theory, and how to manage divers and students.

We don't just stop at the required basics, we take great pride in teaching Divemaster candidates about the dynamic marine environment of Komodo, how to find and spot all the special macro critters, and learning how to best spot and interact with the mega-fauna (manta rays, sharks, and turtles) Komodo is famous for!

Prerequisite: Rescue Diver; 18 years old and up; medical clearance

Price: $ 1500 USD (excludes DM pack and professional fees)

Please inquire for full details and availibility.

 *Please inquire about multiple person course discounts.